Our vision
Leadership in English Language Education
First and foremost, let me introduce ourselves so that everyone gets to know us. The Language Institute is one of the units within Thammasat University. While our status is officially that of an "Institute" (which is equivalent to a faculty), our main focus is on teaching English to undergraduate students. This includes a wide range of courses, from those with the code "TUxxx" to "ELxxx" courses, offering you plenty of options to choose from.
We don't handle undergraduate students, but we're the go-to place for those pursuing master's and doctoral degrees in English Language Teaching (ELT). Simply put, if you dream of becoming an English teacher, this is the place to be. We also have a program called Career English for International Communication (CEIC), where you can learn to use English like a pro in your workplace.
Guess what? We're not just about teaching; we're also a testing center for English proficiency. We administer the TU-GET exam, a standardized international exam designed to measure academic English language proficiency. Right now, there are two types of exams to choose from: TU-GET (PBT), which is paper-based, and the latest one we proudly introduce, TU-GET (CBT), which is a computer-based test. It assesses all four language skills: listening, speaking, reading, and writing. The TU-GET (CBT) is comparable to the TOEFL (iBT) in terms of both scoring and the testing experience. For those interested in testing their English language proficiency for educational purposes, we highly recommend giving it a try.
But there's more! We also offer the TU-STEPS, which is like the TOEIC, and the TU-SET, designed especially for high school students to assess their English language skills. We've aligned these tests with international language standards, making them really useful.
We're not just another institute; we're deeply involved in the world of English language education and research. We collaborate with various organizations, both in Thailand and internationally, to host conferences and seminars. So, if you decide to study with us, you'll not only get an excellent education but also learn from experts in the field.
By the way, despite our official name being the "Language Institute," we specialize in teaching the English language, to be precise.
To create graduates and learners who excel in English language communication and English Language Education on a global scale.
To develop research and innovations related to English Language Education on a global scale.
To provide academic services related to English language teaching, testing, and English Language Education to the community and society.

To efficiently and ethically manage the organization.
" Moving towards its 38th anniversary, LITU will restrengthen its commitment to providing English language education services of superior quality. While facing new challenges, we will rethink our approach to teaching English to the Thai and non-Thai members of intercultural communities. Keeping in mind about their specific needs, we will redesign our courses and curriculums to help learners reach their particular goals in mastering and utilizing English. With a strong background in language research and graduate programs (MA and PhD), we will renew our plans to produce and disseminate research relating to English Language Teaching in the global perspective. Retransforming our specialization will prepare us to lead and stay ahead of changes that may come in the new decade and beyond."
– Assoc. Prof. Dr. Supong Tangkiengsirisin
Director of LITU
Leading
Being a leader in English language teaching and testing and believing in the best organizational practices.
Inspiring
Creating inspiration to lead towards improvement and development.
Transcending
Going beyond expectations, believing in pushing boundaries, and leading to new innovations.
Unifying
Unity in collaboration and teamwork, which can lead to success in what we do.
English language teaching for lifelong learners.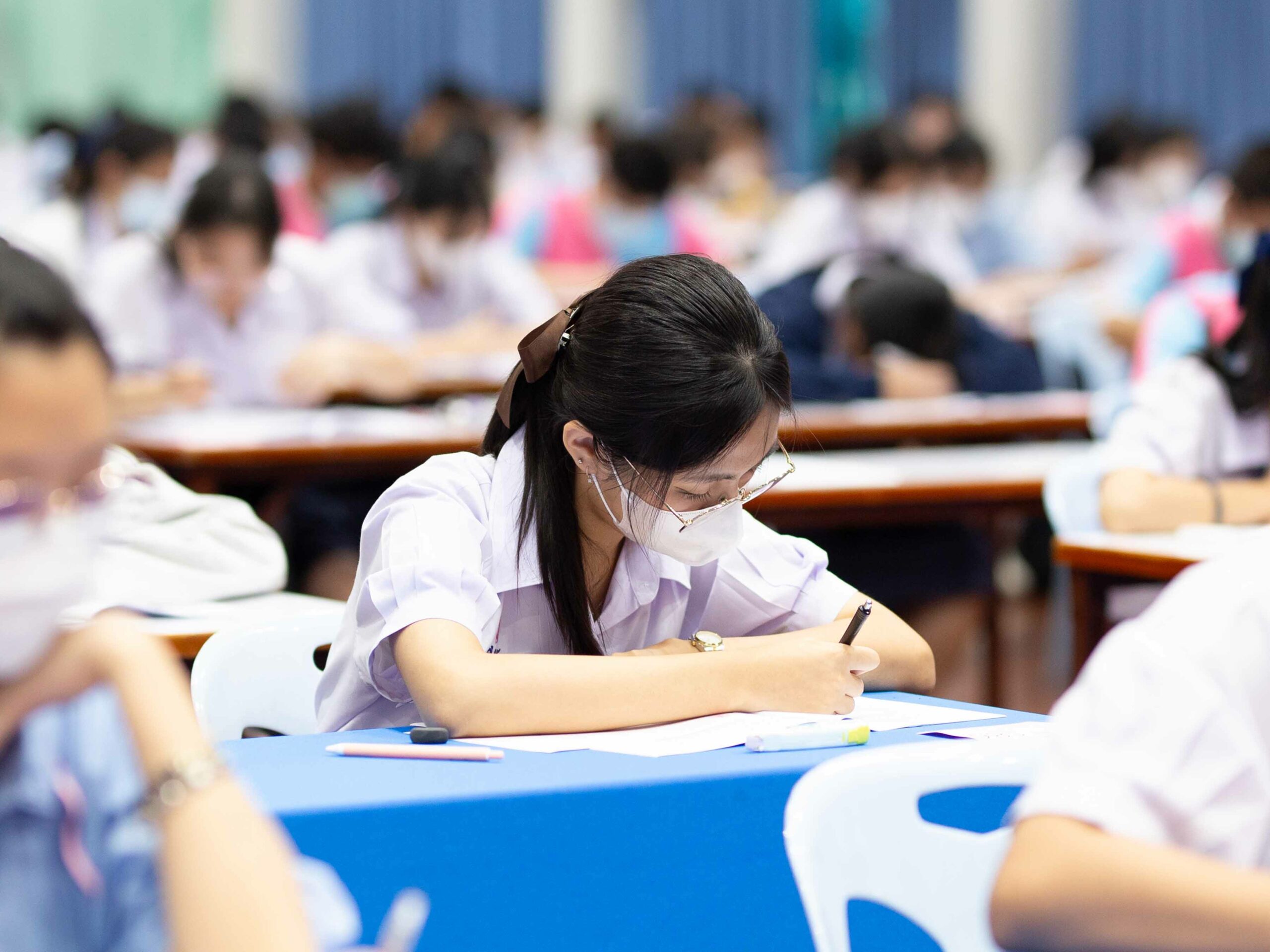 English language proficiency testing.
Research and innovation in English Language Education.
At LITU, everyone is welcome.
At the Language Institute, Thammasat University, we embrace diversity and prioritize mutual respect, guided by three principles: Equity, promoting fairness; Diversity, embracing differences; and Sustainability, learning and growing continuously. No matter where you come from, you can become your true self here, developing knowledge and abilities to reach your set goals.
"At LITU, we welcome diversity. We welcome people from diverse social, cultural, and religious backgrounds to our team, academic programs, and family. We do understand the importance of accepting different points of view and living with one another with mutual respect."
Assoc. Prof. Dr. Supong Tangkiengsirisin
"At LITU, we don't care who you are, but we care about you. Whatever you do reflects who you are, so we are so pleased to welcome any of you to LITU."
Dr. Monthon Kanokpermpoon
"Open-minded, open-hearted, opened arms. At LITU, you'll find a family of classmates, teachers and staff who are proud of our diversity and celebrate who you are and what you can become. Through diversity we achieve the confidence, power and joy of unity."
Asst. Prof. Edward Geerson
"One of the most wonderful things about LITU postgraduate programs is that our students have several things in common, and, at the same time, everyone is unique. At LITU, we cherish how our students from different backgrounds contribute to our academic community. Diversity is what makes LITU vibrant."
"Here at LITU, students from diverse paths are not just learning what we have to offer, but are learning to embrace the differences and to value a variety of perspectives that students and instructors bring to the classroom."
Asst. Prof. Dr. Preechaya Mongkolhutthi
"Diversity brings dynamism and ignites the thought process in LITU graduates. Every one of our students contributes to this in an individual and remarkable way. This results in a much richer and more comprehensive learning experience."
Innovative learning experience
Emphasizing innovation, creating English language learning experiences in a format that differs from the past.
Internationalization at home
Fostering internationalization without the need to travel abroad.
English for all
Providing knowledge and academic services accessible through technology for both on-campus and off-campus communities within and beyond Thammasat University.
Partnering for improving and innovation
Collaborating with partners to foster innovation and enhance organizational development in all areas.
Smart people, smart workplace
Developing personnel to possess enterprise skills and implementing a systematic approach to using data and digital technology within the organization.